Accessibility Information
Everyone is welcome at our B:Music venues, and we will do whatever we can to ensure that you have an enjoyable visit.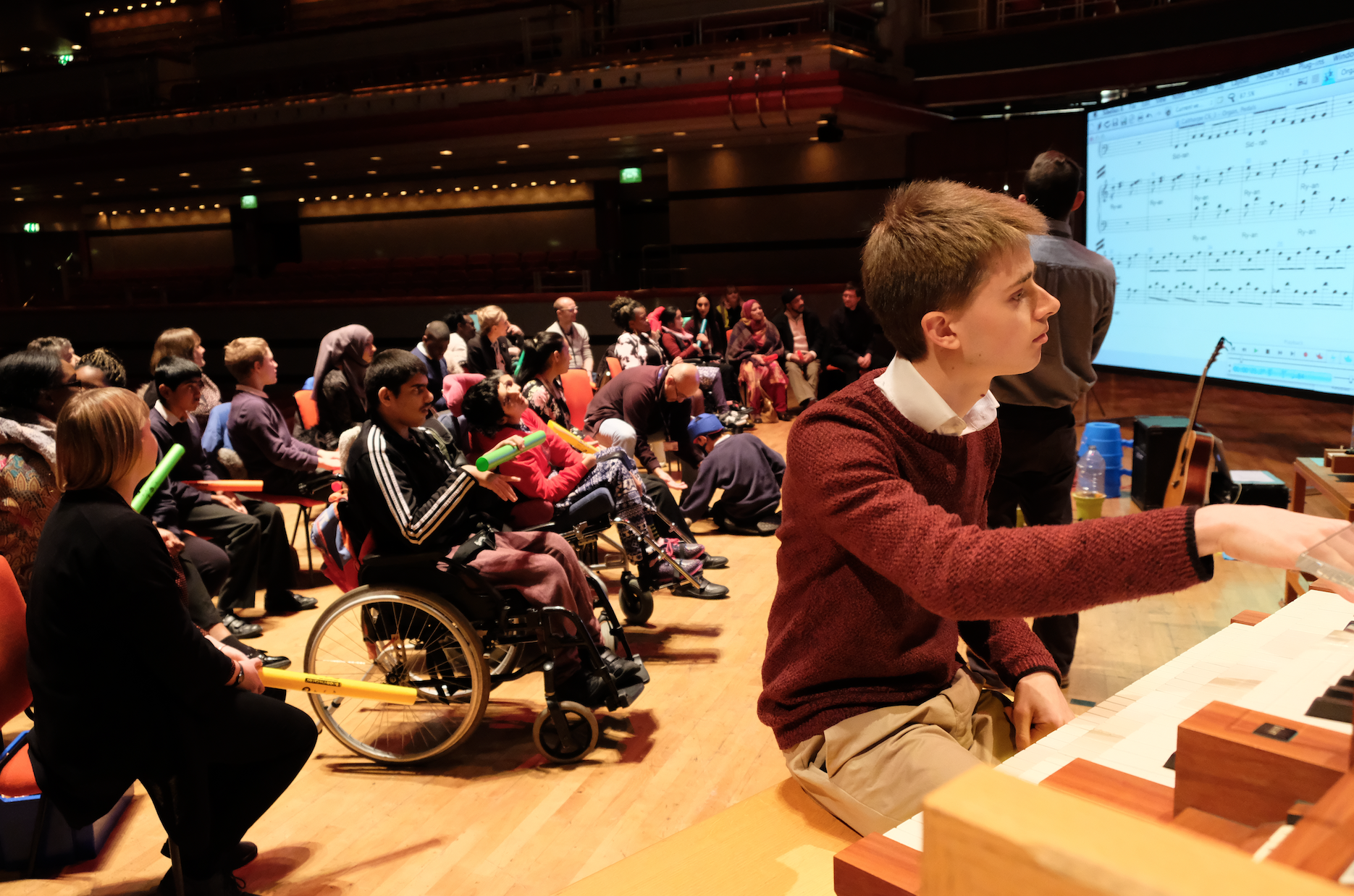 Access Scheme
If you need the assistance of a companion to attend an event, you're entitled to a free companion ticket as part of our Access Scheme.
Assisting Companion tickets are available for the majority of Town Hall and Symphony Hall events. However, there is a limit on the number available for each show, so we advise you to book early where possible.
Please use the dedicated phone line for access patrons when booking your tickets so we can discuss your needs. Our access line is (0)121 289 6343
To be eligible for free Assisting Companion tickets, please join our Access Scheme by completing the appropriate form and returning it to boxoffice@bmusic.co.uk

---
Wheelchair users & audiences with mobility difficulties
Wheelchair Seating
B:Music venues, Town Hall and Symphony Hall are accessible to wheelchair users and there are various positions where you can sit.
We are very aware that we can offer wheelchair seats/positions only in selected parts of our venues because of the seating configurations. As we appreciate that these seats may not be in your preferred areas, we guarantee you the best available wheelchair seat/position at the lowest possible price.
It is very helpful to know whether you prefer to transfer from your wheelchair to a seat or remain in your wheelchair for the performance. If you need to borrow a wheelchair to transfer from the main entrance to your seat, please ask a member of staff when you arrive.
Step-Free Access
If you need flat access to your seat please ask when booking.
Lifts are available to access the upper levels of Symphony Hall. There are steps in the auditorium on all Levels, including the Stalls.
In Town Hall there are stairs when you enter the Circle, and you need to descend these for all rows except A.

Space to Change and Accessible Toilets
Symphony Hall has a "Space to Change" in the transformed foyers at the B:Music venue. It provides an accessible space to accommodate user, wheelchair and carer, plus a peninsular WC with support arms, ceiling track hoist, wall-mounted adult-sized height adjustable changing bench, height adjustable washbasin, and privacy screen. It complements three wheelchair-accessible WCs already at our B:Music venue, in addition to a further two publicly available wheelchair-accessible WCs in the ICC.
At Town Hall, a B:Music venue there are two wheelchair-accessible WCs.
---
Assistance Dogs

Assistance dogs are very welcome. You can keep them with you in the auditorium during the event, or we will be happy to look after your dog in the foyer while you enjoy the performance.
If you require further or additional support, please ask a member of staff.
---
---