Wherefore ART Thou? Project Comes to B:Music!
/ News
4 Oct 2021
News Story
We at B:Music are excited to announce that we are one of the four fabulous venues taking part in the Wherefore ART Thou? project by Birmingham Royal Ballet.
Five artists have been selected to join the project which celebrates the company's premiere of Radio and Juliet at Birmingham Hippodrome this autumn.

The five recently graduated artists and post-graduate arts students from Birmingham City University and De Montfort University, Leicester, have been commissioned to create four pieces of artwork taking inspiration from Edward Clug's Radio and Juliet, a 21st-century reimagining of the story of Romeo and Juliet danced to the music of Radiohead.
As part of the project artists will receive creative professional development, including mentorship from multi-award-winning experiential art duo Davy and Kristin McGuire, and exclusive access to a series of masterclasses, interviews and rehearsals.

The installations cover a wide range of disciplines including architecture, 3D sphere fibre and yarn art, dance for film, and 2D embroidered artworks using costume design.
Artist and trainee architect Tegan Robinson-Morris, who has studied Interactive Installations at Birmingham City University has created the beautiful installation for us at B:Music, which can be seen in our new entrance. The piece includes an interactive letterbox in a writing room, with a desk and armchair to encourage individuals to write love letters to themselves, and to use the post box to express self-love. A truly unique piece of artwork which is well worth a visit!

The other installations can be seen at the Birmingham Hippodrome, John Lewis at Grand Central Station, and the Birmingham Library.
Open Mon- Sat from 10am-6pm to sit down and write yourself a love letter.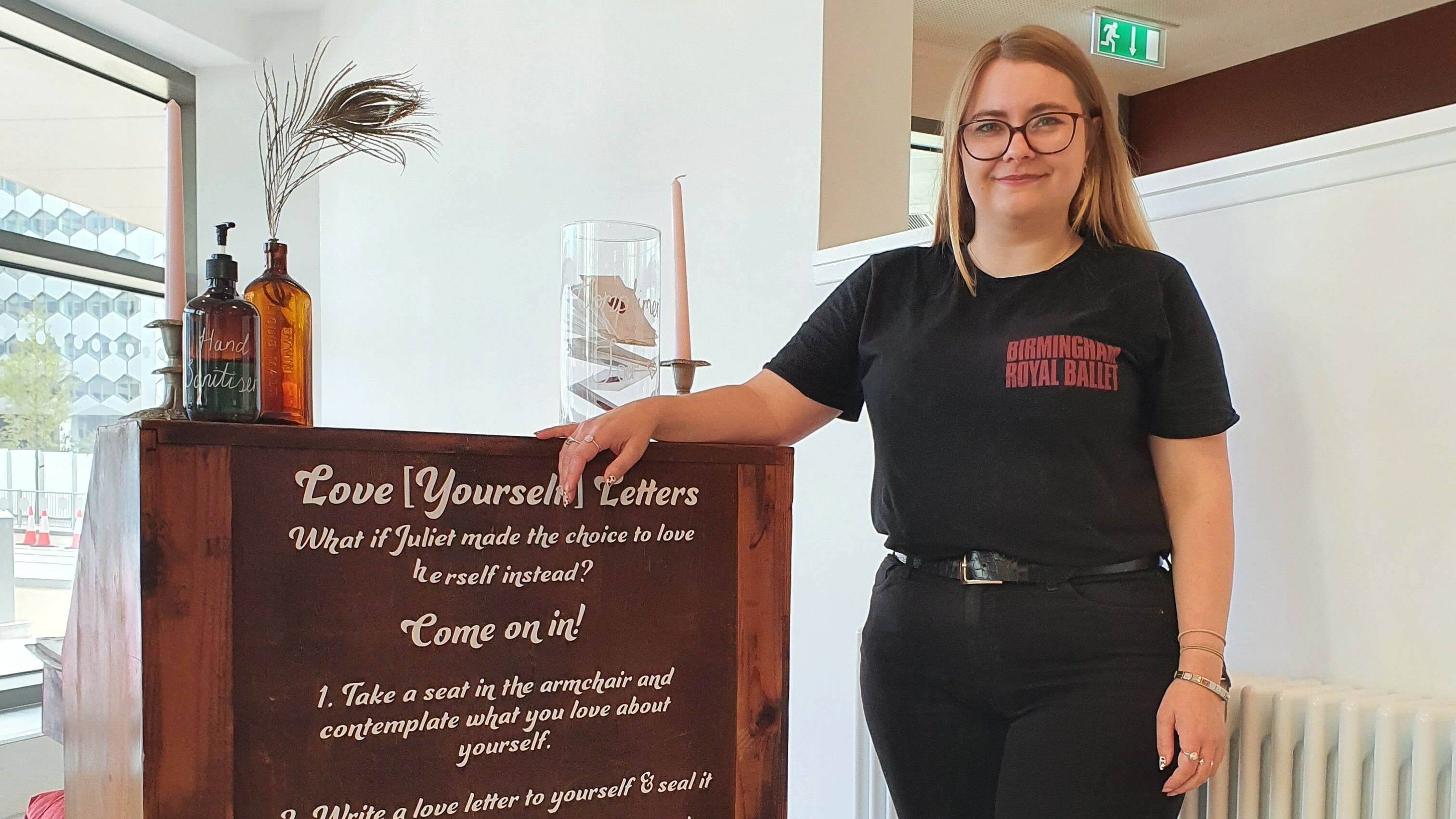 The Wherefore ART Thou? exhibition is free and runs from Monday 4 October – Sunday 17 October 2021.
We hope that the artworks will stimulate new conversations and interest in ballet and the Company. Our thanks to the venues who are hosting the artworks from 4 to 17 October, and Kristin and Davy McGuire for their support

Pearl Chesterman, Birmingham Royal Ballet's Director of Learning, Engagement, Access and Participation