Symphony Hall unveils new Steinway Grand Piano
/ News
1 Feb 2022
News Story
Birmingham-based pianist, composer and educator David Austin Grey selected the new piano for the B:Music venue
Thanks to the vision of generous trusts and foundations, B:Music, the music charity responsible for Birmingham Symphony Hall and Town Hall, has purchased a new Steinway Model D concert grand piano for orchestras, concert pianists and performing artists to play at Symphony Hall, one of the finest concert halls in the world.
On Tuesday 25 January, Birmingham-based musician and graduate of the University of Birmingham and Royal Birmingham Conservatoire, David Austin Grey accompanied B:Music's Chief Executive Nick Reed to London's Steinway Hall to select the new instrument, an artistic and musical treasure that will grace the stage of Symphony Hall for years to come.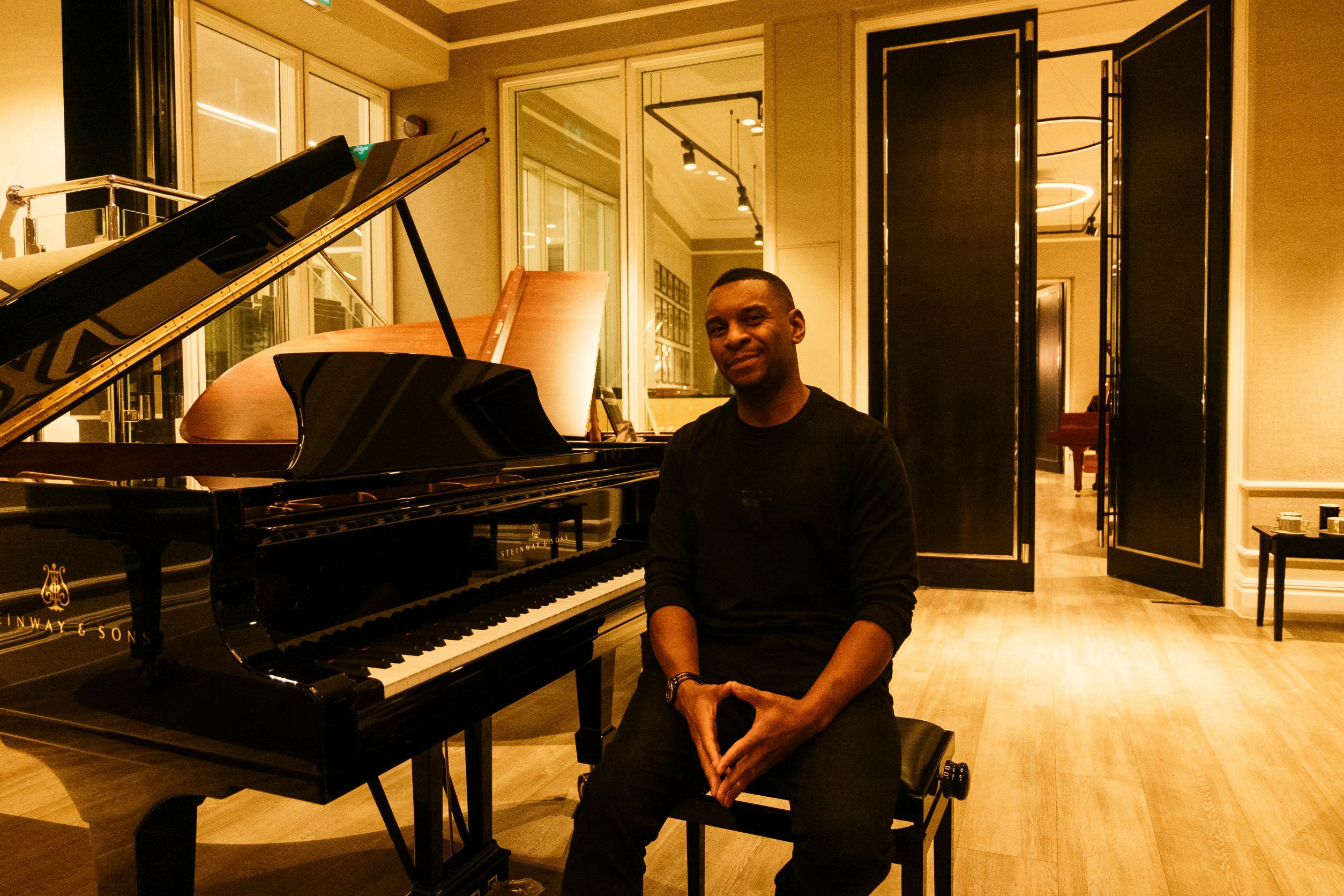 Steinway & Sons handcraft instruments, considered to be the finest pianos available in the world today, in factories in New York and Hamburg. The new Model D concert grand piano, which is 9' long, with a high gloss ebony finish and weighing 480kg, was acquired from the Steinway piano selection room in London. Located in Marylebone, it was opened in 1875 and became the first Steinway Hall in Europe. It has showrooms as well as several practice rooms available for musicians of all ages. The "piano bank" at London's Steinway Hall boasts many Hamburg Steinways and also offers New York Steinways, satisfying a diverse range of pianists.
With the addition of this new instrument, B:Music now has five Steinway pianos across its two venues, Town Hall and Symphony Hall, allowing the charity to permanently locate a Model D concert grand piano in the new Jennifer Blackwell Performance Space. This new space in the foyer area of Symphony Hall hosts many performances by ensembles, guest artists and community arts organisations throughout the year.
B:Music Chief Executive Nick Reed said, "Purchase of this long-anticipated instrument was made possible by funds from the Foyle Foundation, Backstage Trust and the Saintbury Trust, as well as private funds earmarked for Symphony Hall.I believe it is a worthy investment befitting B:Music's internationally recognised music programme and the guests who use our halls. This concert grand piano will be with us for many years to come."
Reed continued, "At present, Symphony Hall offers orchestras, concert pianists and performing artists the use of two 1991 Steinway Model D Concert Grand Pianos or a 2007 model. However, for concert pianos to present the highest sound quality, they should ideally be replaced every five to seven years; ours are 14 and 30 years old. Unfortunately, the age and stability of these instruments also means that we are unable to offer the pitch changes that are often requested by European orchestras. Therefore, it was of high priority that B:Music were able to address this situation.
This purchase also comes as a result of the recent expansion of performance space at Symphony Hall and of B:Music's ambition to make the finest instruments available to all. By adding a new piano of the highest quality to our stock, we hope to both inspire musicians at the beginning of their careers, such as those being supported by our talent development programmes, and to satisfy those world-class performers who regularly visit our halls."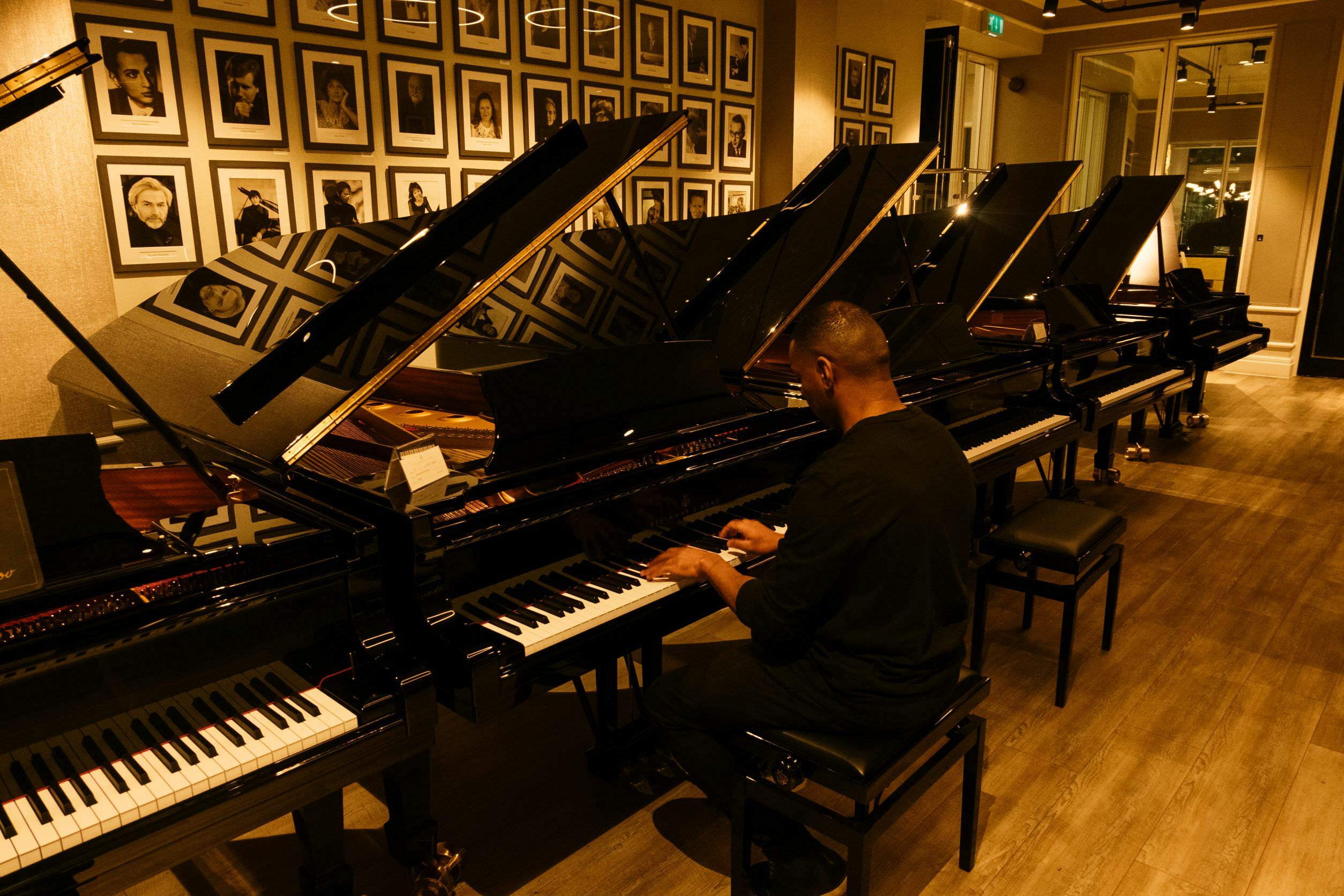 Selecting a new instrument of this quality can be a painstaking process, particularly given the cost and the length of time it must serve the institution. Birmingham-based musician David Austin Grey has enjoyed a long-standing relationship with B:Music- as a performing artist, an educator and a composer- and was invited by Nick Reed to help select the new instrument. Grey travelled to London to play and explore the unique characteristics of five different Steinway Model D concert grand pianos.
David Austin Grey recalls, "We were graciously welcomed to Steinway Hall where the selection process took place over several hours. I played the available pianos many times, assessing subtle differences in sound, touch, and tone of each instrument. We started with five,lined up in a row ready for me to play; five very similar instruments but each with their own unique character. We narrowed them down to two and then choose the one. Essentially, I was looking for balance from the instrument, and a wonderful tone right through the range of the keyboard. I wanted to find something that had both warmth and clarity, sweetness and power. I also paid particular attention to the feel and response of the keyboard. It was evident that the instrument we chose was capable of handling everything, from the subtlest of delicate melodic lines through to the most rigorous, dynamic and demanding passages.
For me, Steinway is at the very top of the list when it comes to the craftmanship of the piano. Their quality, lineage and prestige are incomparable; their name is synonymous with the grand piano. I can't wait to play this Steinway when I am next performing on the main Symphony Hall stage as part of B:Music's Generation Ladywood project in June. I am very excited for Birmingham audiences to see and hear this beautiful instrument chosen for Symphony Hall."
Nick Reed concluded, "We are thrilled to have selected one of the finest quality Steinway Model D concert grand pianos to nurture the world-class artistic inspiration and acoustic demands at Symphony Hall."