National Open Youth Orchestra (NOYO): Behind the music
/ News
26 Apr 2022
News Story
We're so excited to finally premiere "What Fear We Then?" to a live audience – a beautiful new piece by Alexander Campkin, co-commissioned with Bournemouth Symphony Orchestra.
We had a very short period of time before the pandemic hit, where musicians were able to workshop Alexander's initial ideas for the piece in rehearsal.
NOYO saxophonist Jamie Moody says 'It's been amazing playing a piece that has only been composed in the past few years and having a living composer who could talk to us about his feelings behind the piece and not only give feedback but also listen to our suggestions.
I think one of the most rewarding aspects of NOYO is feeling like an active participant in the music that we play. All too often in a lot of other music groups, you tend to play from the same repertoire of classical and romantic and baroque pieces, and the interpretations and expressions of that music will either be based on how every other orchestra has played these pieces, or how the conductor thinks it should be played. It's really great to just open up the idea of questions and suggestions. And it turns out, I think, a much more enriched and rewarding experience, both as a musician playing the piece and as an audience member hearing it.'
NOYO harpist Holli Pandit adds: 'I really enjoyed the process of having the workshop with Alexander, just talking about what he wanted with the piece and how we should transfer that to how we play it. Lots of the music we play, you wouldn't really get that in a stereotypical classical music concert.
We believe that it's best if disabled and non-disabled musicians can integrate together, and then we can come up with fresh new ideas and be more creative, explore different parts of music. I don't think I would ever have played "What Fear We Then?" in a classical kind of orchestra at all. We wouldn't have the instruments! It brings a different kind of element of programming. We can be freer with the music.'
We're inviting you to discover a musical universe that marries the familiar with the unknown, with instruments such as the Clarion, LinnStrument and Seaboard RISE which you may not have heard before.
Across the broad ranging contemporary classical programme planned for the afternoon, electric guitarist Elle Nanagara says 'My favourite piece would have to be "Time" by Hans Zimmer as I love how the guitar fits into the song. Summing up the National Open Youth Orchestra' offer, she says "you should all come and watch to experience unique sounds that you wouldn't find in a typical orchestra."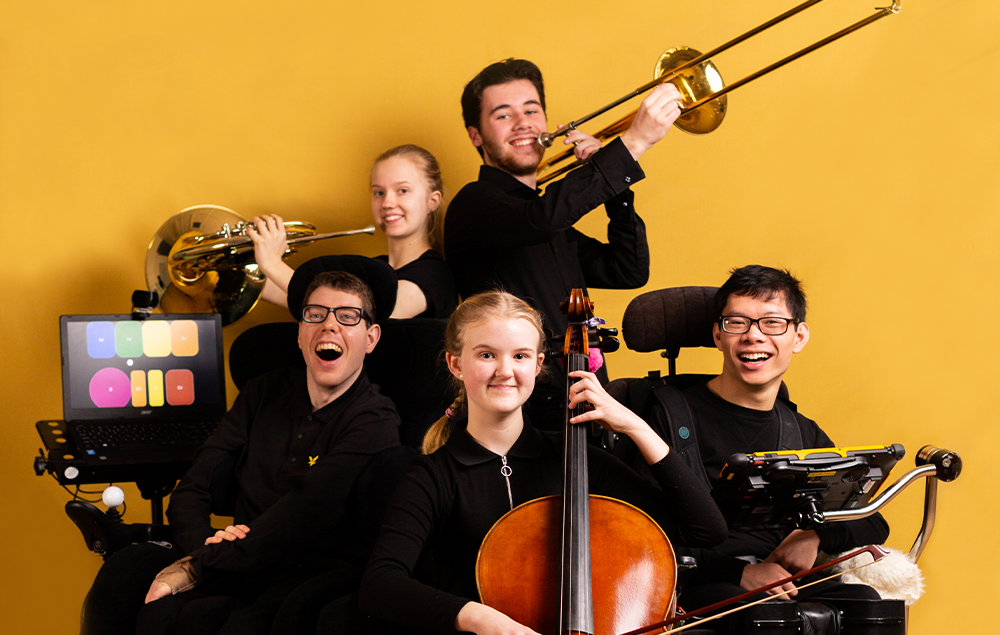 Book Now!
Live Premiere Concert: 5 June 2022
Watch What Fear We Then
Meet the Orchestra