Birmingham Comedy Festival: Back with a Bang!
/ News
1 Oct 2021
News Story
After a year online, Birmingham Comedy Festival is back with a bang for its 20th Anniversary!
The Birmingham Comedy Festival has been drawing attention to the city's vibrant and often unsung comedy scene since 2001, when the debut festival hit the road running thanks to appearances from comedy icons Peter Kay and Sean Lock as part of a programme of over forty events. We don't do things by halves here in Birmingham!

It is now the second longest-running comedy festival in the UK and celebrates emerging newcomers on the comedy scene as well as many well known acts.
B:Music are thrilled to be getting in on the comedy action through to 10 October with a series of hilarious shows for the festival, guaranteed to give you barrels of laughs and a grin on your face.
---
First Up:
Why have one star on stage when you can have three?! Radio One Breakfast host Greg James, England cricket legend Jimmy Anderson, and former guitarist of The Maccabees Felix White will be bringing their award-winning podcast to Symphony Hall, a B:Music Venue on October 1.
Tailenders takes an alternative (and sometimes musical) view on the world of cricket, which sports fans throughout the nation adore. The podcast is the ultimate celebration of cricket with the comedic flare and bro-mance between the three hosts gaining over 2.5 million listeners on the BBC Sounds app.
As their catchphrase says: 'go well' and make sure you don't miss this great show!
Tailenders
Book your tickets today
---
How do we get back to normal? Were we ever normal in the first place?
Only Russell Brand could discuss such topics and make us laugh out loud along the way.
He's taking to the Symphony Hall stage on October 3 for his long-awaited stand-up show: 33. He'll be joking his way through some of the beautifully bizarre things the past eighteen months have taught us all.
Russell Brand is an award-winning comedian, actor, author, and a passionate activist for mental health and drug rehabilitation.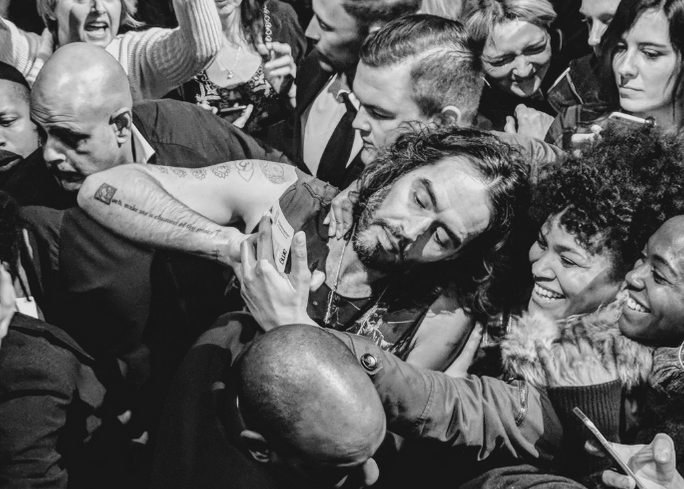 Russel Brand: 33
Book your tickets today
---
He's a fantastic host on our TV screens, and a critically acclaimed comedian...
Chris Ramsey is hitting the road for his biggest ever stand-up tour yet!
Don't miss your chance to catch him live on the Symphony Hall stage on October 10.
Chris is currently co-hosting the Shagged, Married, Annoyed Podcast with his wife Rosie Ramsey. Downloaded a phenomenal 43 million times to date, Chris and Rosie won the Global Award's Best Podcast Award, and British Podcast Award Listeners Choice in 2020, their brand new book launched in autumn 2020 reaching number one on both Amazon and the Sunday Times Best Seller charts.
This show is set to be his best yet...
Chris Ramsey
Buy your tickets today
---
Jimeoin is returning to Birmingham for his new smash-hit Turn it Up! tour.

A brilliant evening of world-class comedy from the Irishman internationally celebrated as one of live stand-up's true masters.
Jimeoin is an acclaimed, hugely loved and much respected comedian, with a wide appeal and a cheeky, no-gimmicks and superbly observed sense of humour that has his audiences in stitches across the world including The UK, Europe, The USA, and Australia. The press say that he's at the very top of the game - and we definitely agree!
Come and see him for yourself at Town Hall, a B:Music venue on October 9.
Jimeoin: Turn it Up
Book your tickets today
Hilarious! If laughter is the best medicine, Jimeoin is a course of steroids… don't miss it!

Edinburgh Evening News
---
From Bolton via Vegas…..to the stars!
Clinton Baptiste is the hapless, unsubtle psychic from Peter Kay's hugely popular Phoenix Nights. Following the massive success of his last UK tour, clairvoyant medium and psychic has gone exploring, stateside. Not quite Caesar's Palace but a series of shows in Vegas have lifted his celebrity status up a notch. Let him take you on a journey from his humble roots via the dazzling heights of Sin City and on to an amazing finale that will heal the world.
Don't miss this unique and hilarious show on at Town Hall, a B:Music venue on October 7.
Viva Las Vegas… Viva Clinton!
Clinton Baptiste goes Stratospheric
Book your tickets today
Nothing short of genius!

On Yorkshire Magazine
The Birmingham Comedy Festival runs from October 1-10, don't miss out on this hilariously brilliant line up!