B:Entertained this Festive Season - Henry Liggins returns to Symphony Hall
/ News
16 Nov 2022
News Story
We're delighted to welcome Henry Liggins to play some festive favourites and his own music while you enjoy lunch at B:Eats this December.
The 22-year-old English singer-songwriter has been writing music in a variety of styles since his early teens. Settling into the alt-folk genre, with strong influences from the likes of Damien Rice, Lizzy McAlpine and Hozier, Henry self-released his first three singles earlier this year: Makeup, Birthday Party and Drowning.
Self-producing alongside his friend Joseph Milner, Henry blends electronic sounds into tracks that tend to start at either the guitar or piano. These combine with carefully planned and strikingly visual lyrics (which often take inspiration from film and pop culture) to paint the picture of an honest and self-aware artist.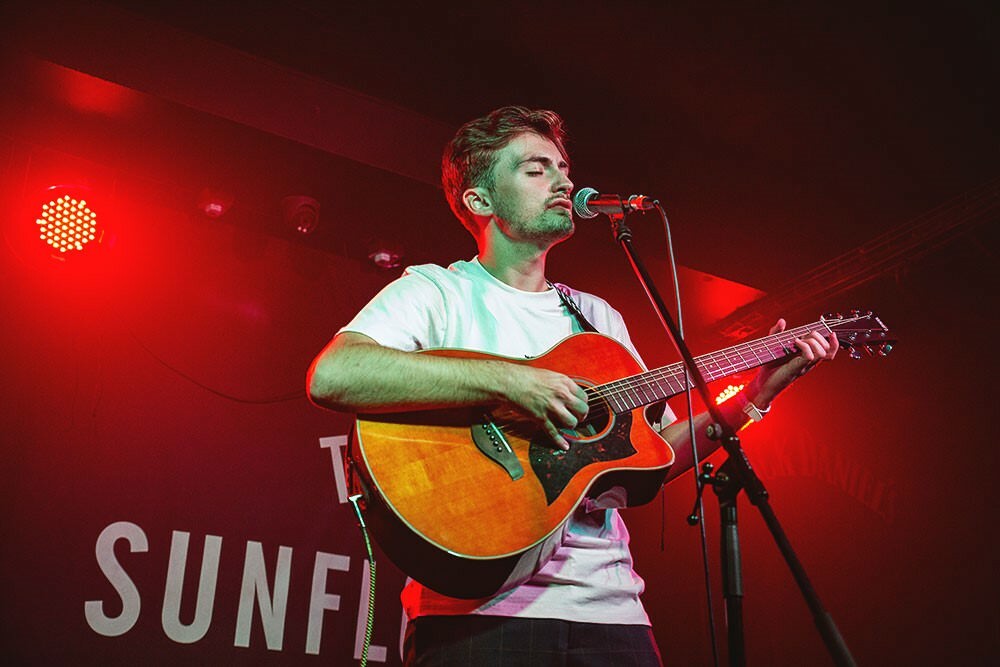 No booking required
FREE Festive Music at B:Eats: Henry Liggins | B:Eats Eatery | Wed 21 Dec, 1PM
"I've been to more concerts and events than I can remember at [Symphony Hall and Town Hall] and have been lucky enough to sing at both venues whilst in CBSO choirs," says Henry when asked about the concerts and gigs he'd attended at two of Birmingham's iconic venues. "Choosing one favourite event is tough, but it would have to be between seeing The Music of Zimmer vs Williams performed by the CBSO, an evening with David Arnold talking about his film music, or seeing Jamie Cullum play. His was the first gig that I went to—and what a venue to see your first gig!"
Henry's connection with the venues is not only as part of the audience but as a performer too. He previously performed in the Jennifer Blackwell Performance Space on 8 June 2022 in the Keys For Life special performance to celebrate Carers Week alongside Gasoline and Matches'Sally Rea Morris and Voice USA's Audra McLaughlin.
"Keys for Life was a really wonderful experience that I'm hoping I can be a part of again when it returns. I had the chance to meet and get to know some truly amazing people and put their stories to music." Henry added: "It was important to keep their thoughts and feelings as central as possible and have them direct us with the music that we wrote together rather than just dictating for them, which was a new experience for me but one that I thoroughly enjoyed."
When asked about his influences and inspirations, Henry shares: "The biggest influence over my journey into music was my Grandad. He passed away last year unfortunately, but it was him who encouraged me to take piano lessons when I was five. And from that point on, music has been the most important element in my life.
I find inspiration anywhere and everywhere! I'm a huge lover of cinema, so a lot of the lyrics I write are influenced by films—as well as things like the natural world and love. I care a lot about helping people and using music for a tool to do good. As much as the music that I write tends to be melancholic, I want to leave the world better than I found it, so I'd love it if my music and the projects that I'm part of could help contribute towards that."
Now, Henry returns as part of the free B:Festive performances at B:Eats this December. "It feels great to be back. I really love the work that B:Music does, and to be involved in any capacity is an honour for me, so long may our working relationship continue." When asked about what to expect form his performance, Henry says: "An acoustic set, that contains a mixture of originals, covers and a few Christmas numbers as well—it is less than a week from Christmas after all!"
You can follow and listen to Henry's music at @henryliggins on Twitter and Tiktok, and @henryligginsmusic on everything else.