B:Eats with Beats! A week of free music at the new Symphony Hall eatery
/ News
6 Jul 2022
News Story
Set to serve daytime and evening menus alongside a programme of music events, B:Eats is the latest venture of music charity B:Music
B:Eats, a daytime cafe and evening eatery created by BMusic, the music charity responsible for Symphony Hall and Town Hall, is due to open in July.
Set to serve food and drink in the heart of Birmingham from inside the transformed spaces at Symphony Hall, B:Eats will be offering both a daytime and evening menu to run alongside music events.
The daytime food offering will feature breakfast items such as the Big Beats Brekkie, served with butcher's choice sausage, maple-cured bacon, roasted heritage tomato, buttered mushroom, house-baked beans, cauli hash brown, poached egg and Brummie bacon cakes, and the Just As Big Vegan Brekkie with plant-based cured bacon, sweet potato cakes, roasted heritage tomato, roasted mushrooms, house-baked beans, cauli hash brown and toasted sourdough.
The Brunch menu includes Eggs Benedict - toasted English muffin, poached eggs, smoked paprika hollandaise - with diners' choice of maple-cured bacon, wilted spinach or smoked salmon and Buttered Sourdough Toast with either salted, maple or vegan butter and a topping choice of either smashed avocado, poached egg or truffle mushrooms. Also on the Brunch menu are Southwest Chorizo Hash - dry-cured chorizo, charred sweetcorn, fried potatoes, roasted pepper, tomato sauce and a poached egg - and Brummie Bacon Cakes with either salted, maple or vegan butter.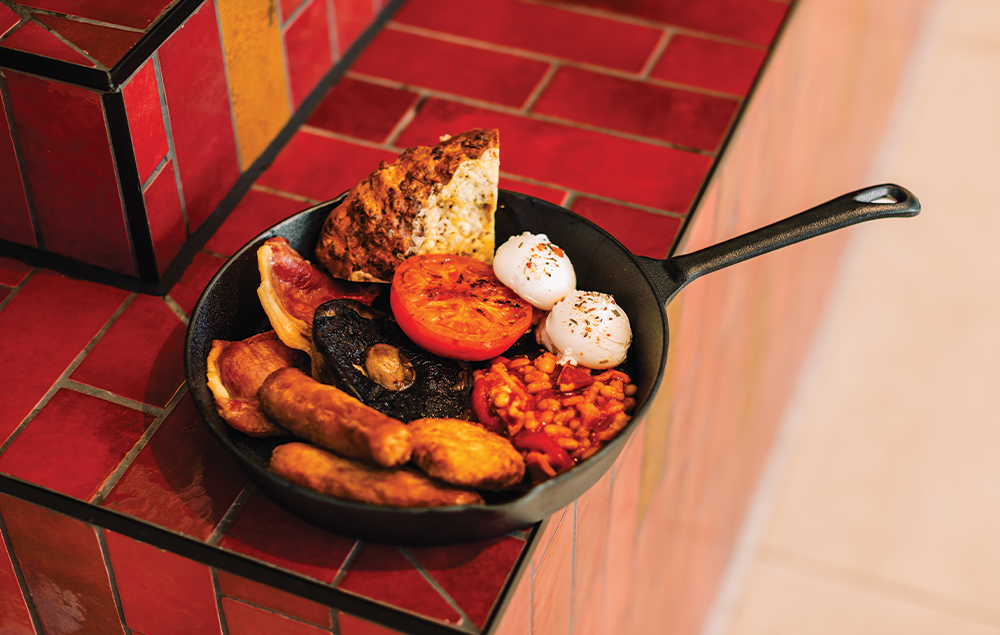 Check out the new menu
Available from 18 July
The Brummie Bacon cake, also known as the Brummie 'breakfast cake', has been a fixture in the city as early as the late 19th century. These cheese and bacon scones feature two special ingredients of tomato ketchup and Worcestershire sauce to enhance their savoury flavour.
The Lunch menu includes items such as Buttermilk Fried Chicken Wings with a serving of either sweet BBQ, maple bourbon, chipotle honey, lemon parmesan or garlic sriracha, Sticky Maple Fried Chicken - breaded buttermilk chicken tossed in maple syrup, Brummie bacon cakes and smoked honey - and Middle Eastern Lamb Tagine - marinated lamb shoulder in a smoky ragu with poached egg, yoghurt, sumac and sourdough.
The Sarnies menu offers a variety of sandwiches such as The Blackstone (named after the hotel where the famous Reuben sandwich originated), pastrami, sauerkraut, Swiss cheese, Russian dressing and picked on toasted rye bread, The Ensemble (a classic Club sandwich), roast chicken, maple-cured bacon, shredded iceberg lettuce, avocado, heritage tomato and bacon mayonnaise on toasted sourdough, The Vegan Gatsby (a vegan twist on a Philly cheesesteak), plant-based steak slices, house fries, vegan cheese, vegan mayo, shredded iceberg lettuce and sliced heritage tomato on a toasted sub roll and The Toastmaster, a grilled cheese sandwich on sourdough, all served alongside classic offerings of Just Cheese, Ham & Cheese and Cheese & Onion.
Sides on offer include poached egg, avocado, maple-cured bacon, butcher's choice sausage, truffle mushrooms and sourdough toast.

B:Eats will be the perfect accompaniment to B:Music's already popular programme of free music which take within the venue, showcasing local performers and artists. Beginning from 18th July, guests will be able to enjoy their meal against the backdrop of live music as the venue will be hosting a programme of free daytime performances twice a week, with performances from musicians such as pop acoustic artist Gaby K, acoustic artist Ben Drummond, Soul artist Liv Campbell and Soul & Jazz artist Isabel Abbott.
The programme has been curated by Alex Carr, B:Music's Jazz & Emerging Talent Producer. Alex's inspiration for launching the programme came from the café's location, sat at the first entrance point of the iconic Symphony Hall. Alex wanted to utilise the opportunity to bring in new artists who had never played at Symphony Hall or worked with B:Music before, creating their first entrance point to a relationship of performing with B:Music.
All of the artists selected are local to Birmingham and Midlands. As an organisation, B:Music work to support local talent, giving them access to perform in the same spaces as artists further along in the careers.
Alex said, "The main body of artists have been picked for the free music programme as they are each uniquely talented and cover all genres from folk through to funk with a little sprinkling of pop thrown in for good fun. We open in spectacular style with the with the king of funk Thomas Atlas & Bandon the Saturday and then move through a week day programme of double bills. All artists are performing their own original material, which again is something that we encourage for artist development. For most of the artists including this will be there first time performing with B:Music at Symphony Hall, and I felt this was a great way to introduce new artists to our venue and likewise, the charity to a new set of artists. With all the buzz taking place surrounding the opening of B:Eats each artist will have a busy live audience to perform to. You can expect effortlessly cool pop from Gaby K, romantic story telling from Joe Dolman and heavenly vocals of Liv Campbell (all first timers), along with great food and hospitality from B:Eats. Our week of free music offers something delicious for everyone!"
From 18 July B:Eats will open Monday to Saturday from 10am - 5pm (food service from 11am each day, coffees and pastries served from 10am - 11am).