B:Country: From the USA and Canada to the UK, Jessie G, Matt Wynn and Aaron Goodvin hit the Symphony Hall stage with Nashville Sounds in the Round
/ News
17 May 2023
News Story
Joining forces with the award-winning, annual country music festival Buckle & Boots, Birmingham's premier country songwriter night Nashville Sounds in the Round brings some of this year's Festival talent to the iconic Symphony Hall in partnership with B:Music on 1 June.
Hosted by Two-time British Country Music Association Duo of the Year Gasoline & Matches, artists are invited to tell the stories behind their songs in a Bluebird Café style 'In The Round' session, stripping the songs back to their origins and transporting the audience right back to the writing rooms.
"I have never played the UK and I'm so excited," says the Alberta-born, Nashville-based and 2018 CCMA Songwriter of the Year Award, Aaron Goodvin who is one of four remarkable artists gracing the Symphony Hall this June. "I played in France, but a big part of my show is my personality and my ability to be open and honest with the audience and nobody knew what I was saying so I'm excited to play across the pond to people who speak the same language."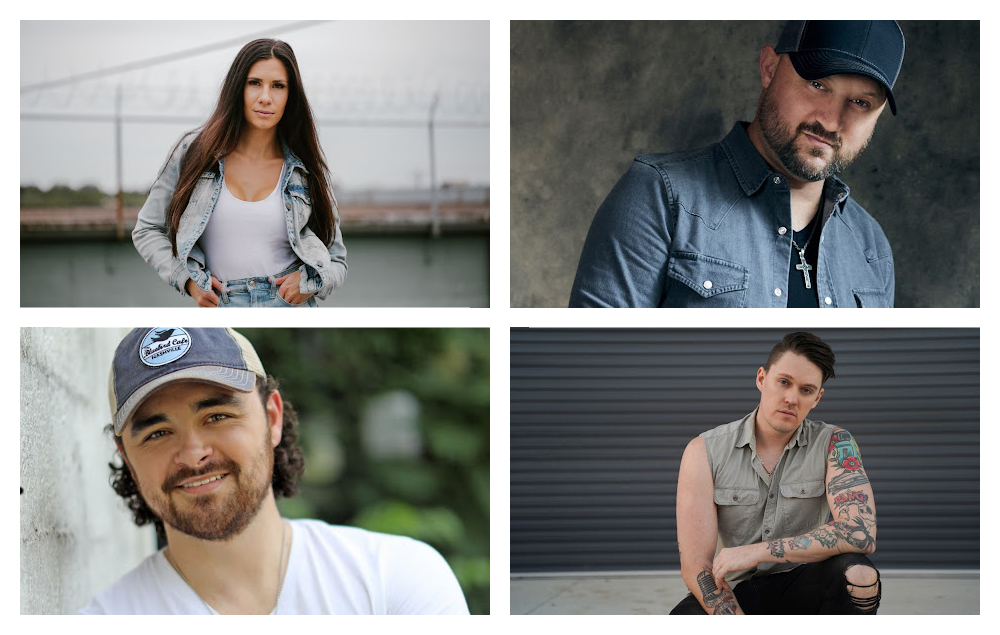 Book now
Nashville Sounds In The Round: Buckle & Boots Takeover | Jennifer Blackwell Performance Space | Thu 1 Jun 2023, 7:30pm
The 'In The Round' session gives the artists an opportunity to bring the audience with them back to the writing rooms. "I have a couple new songs that I am pumped about. I have a new Line Dance type song that is like a sequel to my double platinum hit Lonely Drum. It's called Country Dance that I think is gonna take over the world. I also have a new one called Said No Redneck Ever that has been going over huge that I will probably try out. But I never know what I'm gonna play until I play it."
Aaron has been surrounded with music since he was young. "The first time I was on stage with a band is when it really clicked for me. It felt like that's what I was born to do. Everything else just fades away for me. I was 14." He adds: "My parents and extended family all played and sang Country music around the campfire. I always joke it took me till I was 12 years old before I realised not everybody loved country music. and I was heartbroken. Cause why wouldn't you love country music?"

"Sometimes true musical talent just cannot be denied, even when it's found in the sleepy fishing town of Brookings, Oregon," says Grammy award-winning artist Gretchen Wilson about co-writer and tour mate Jessie G.
"I like to call my music a blend of country and rock n roll! Rock Country!" says Jessie. "Music has always been a huge part of my life. Ever since I was in diapers my parents said I was singing all hours of the day. Things got more serious once I turned 12 years old and won my first Jazz Vocal Competition. Once that happened, I got bit by the bug and only wanted to sing for the rest of my life."
Following the heels of her successful independent single releases in 2023, Jessie is gearing up to release her first full length album and several projects.
When asked for some of her favourite Country artists and the artists who are the most influential in her own music, there was no hesitation. "Gretchen Wilson of course!" Jessie first met Gretchen Wilson after winning an opening slot for the country superstar in a Battle of the Bands contest and it was only up from there. She moved to Nashville and immersed herself fully into writing, teaming with some of Nashville's best, and spent countless hours in the studio working on her sound. "I received a scholarship to go to college for Vocal Performance and received 2 degrees in 4 years. After college I decided to pursue music as a career. Not too long after playing in my country band in the local bar scene in Portland, Oregon, I met and opened for Grammy Award Winning artist Gretchen Wilson. She gave me the opportunity to move out to Music City (Nashville, TN) and go on tour with her. Ever since then it has been one wild ride! I have been able to make music with my idols and tour with the biggest names in country music. I feel so blessed to have had such an amazing journey so far!" Jessie adds, "I also love Ashley McBryde, Shania,Reba, the list really goes on!"

Jessie will be performing alongside three other artists in Birmingham's premier country songwriter night Nashville Sounds in the Round on 1 June. "I have some new music for you, and I can't wait to show y'all! I am most excited to perform my new song Babies Raisin' Babies. I wrote it with Matt Wynn another artist appearing on the bill!"
Matt Wynn is a singer-songwriter and recording artist based out of Nashville. When asked to introduce himself, he adds: "I love to make people laugh and I cook a mean salad!"
He describes his music as "a mix between country, rock, with a touch of blues all tied together by soulful vocals and most importantly intentionally crafted song-writing."
It will also be his first time performing in the UK. "This is my first time ever going to the UK or touring across the pond," Matt says. "But I'm majorly excited to experience everything it has to offer! Especially since most of my lineage is from the UK. Wynn is Welsh-Irish and my mom's maiden name is" O'Brien" which is obviously majorly Irish. Excited to see where my family comes from first hand."
Matt's journey with music started at a young age. "I grew up in a small town in Missouri. In grade school and middle school, we had no music program, but we would go to church and sing in there all the time. I fell in love with being able to sing and move people. Being able to watch them react to the emotion. I sang Oh Holy Night for a big Christmas church service in middle school and saw how friends in my class and even their parents were moved to tears by my performance. I really didn't know why they were so moved at the time, but I thought if I could move them that way and not even know I did or even why, then maybe this is something I should be paying attention to."
"I started trying to write songs and be on stage as much as I possibly could. Then, in high school I picked up a guitar and the rest was history. But I often credit that time I sang Oh Holy Night when my brain clicked saying: I don't know what this is but I know it's all I ever wanna do and I'm gonna dedicate my life to it. Been that way ever since."
Oh I think it's incredible! The fact that folks from a completely different place than me across the world also loves and appreciates Country music like I do I think is incredibly cool. Not to mention very very encouraging for the genre. Makes my heart happy more than I can say.

Birmingham is the second largest city in the UK. What does it mean to see Country music played outside of the US and Canada?
"I've always had a heart for Country music and the stories it told about real life. The language it used and themes throughout. I grew up listening to it with my Dad and Mom all the time. I started singing for the first time as a kid in church so there's a big faith element to me that often bleeds over into my music. I always thought country music kinda represented Jesus. The voice of the people. Christian music is great, but it speaks to the people already in the pews, the people going to church every Sunday and the people who are trying to listen to God. But Jesus went out to folks and met the people where they were. Didn't care where he had to go to do that. He talked in parables like a songwriter and brought God to people often without them even knowing. And that's what I think Country music does in a sense as well."
"I think it's awesome," Aaron says about the growing popularity of Country music outside of the US and Canada. "Sometimes I feel like we make music strictly tailored to the US or Canada and you forget that Country Music is Worldwide. I'm excited to see that for myself."
Jessie echoes the sentiment. "This is my second time playing in the UK! I absolutely love how attentive and engaging the audiences are in the UK. I can't wait to come back out."
The three artists have many exciting projects we can look forward to.
Aaron Goodvin says: "When I get back, I have shows in Canada where I'm from, and then after that I will Just be back to writing and recording for what comes next."
"There's many songs I'm excited to share but the one I'm the most excited to perform is a song I wrote called Seven Minutes In Heaven that was just announced was cut by Reba McEntire and will be on her upcoming project," says Matt Wynn. "I'm excited to tell the story about that and be able to say officially she is releasing it since I haven't been able to say anything about it until Reba made the announcement recently. This will be one of the first times I'm able to say it out loud on stage when I play it."
While Jessie G adds, "I will be releasing a duet with Gretchen Wilson in a couple months! I am so excited to sing with one of my idols!"
Don't miss Aaron Goodvin, Jessie G and Matt Wynn alongside Josh Setterfield at Birmingham's premier country songwriter night Nashville Sounds In The Round on 1 June and hear them tell the story behind their songs.