Announcing the B:Music Prizewinners
/ News
4 May 2022
News Story
Patchwork, a six-piece fusion band whose members span the length and breadth of Britain and Ireland: from Hampshire to the Highlands, taking in Norwich, Sligo, Dublin, and Ayr along the way won the 2022 B:Music Prize in collaboration with Birmingham Conservatoire.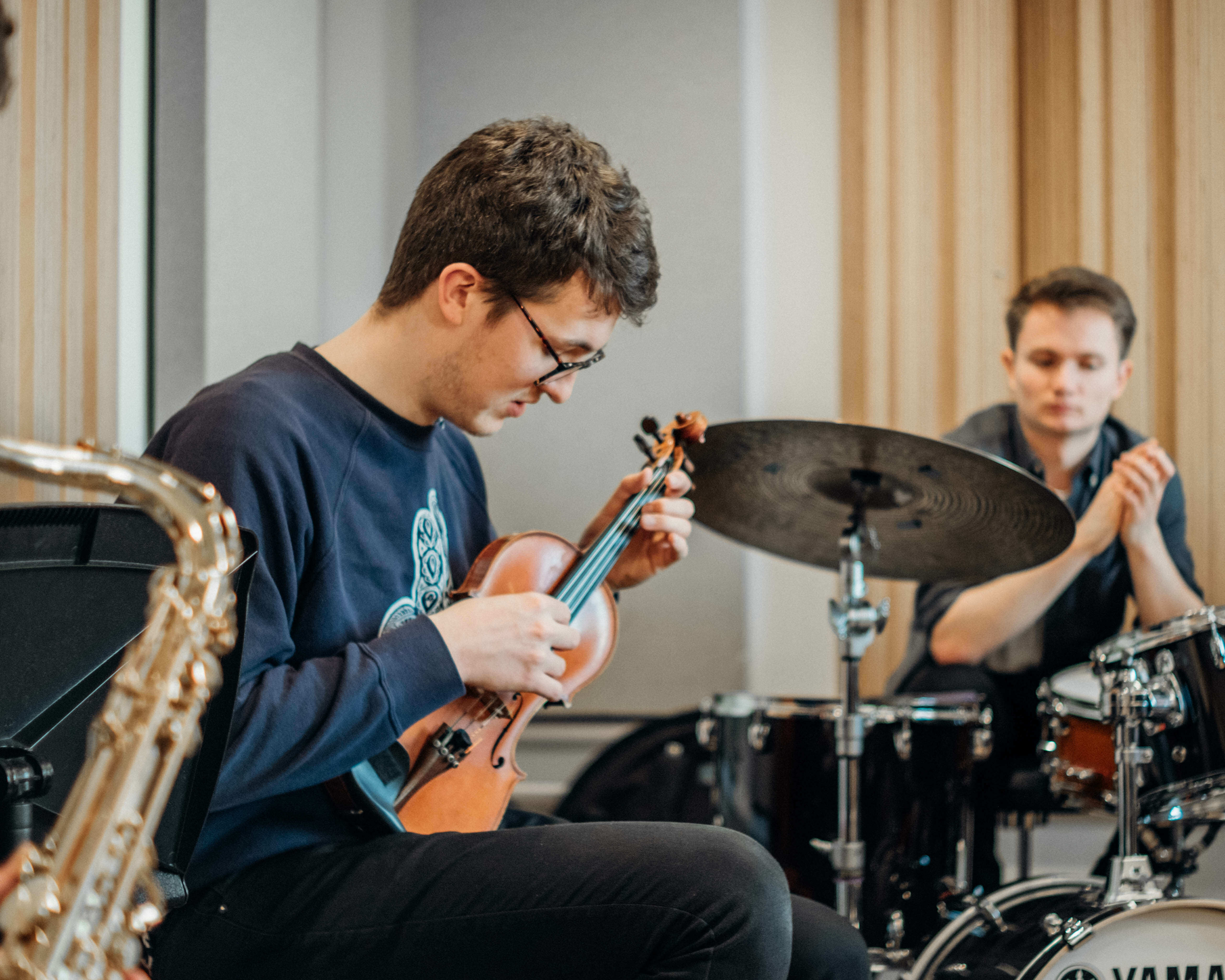 See Patchwork Live
Free: 13 June 2022
The theme for the competition was 'Together'. Students had to submit a written application, followed by a performance, which was judged on Application, Presentation and Interaction.

The award for winning the prize is the season-closing Music on Monday performance on Monday 13th June at 1pm in the Jennifer Blackwell Performance Space.
Patchwork's diverse range of cultural and musical backgrounds come together to create a unique blend of English, Scottish and Irish folk & jazz music. Playing a mix of old, new, and original tunes, Patchwork stitches it all together with drive and energy.

Patchwork formed in 2021 and features Sean Morrison on fiddle, Leila Hooton on flute, Neavan Lobban on tenor sax, Conor Bastible on piano, Maitiú Gaffney on double bass and celtic flute, and Jon Greene on drums. They will be performing at Birmingham's annual 'Power Folk' festival in June later this year.
We couldn't be more excited to be the winners of the first-ever B:Music Prize. We had some pretty stiff competition, and we still can't quite believe we won! Symphony Hall is a world-famous venue, and we can't wait to get into the beautiful new performance space. We hope plenty of people will be able to come along as we finish up the first of the new 'Music on Mondays' season

Neaven: Patchwork
After a really hard-fought competition between three excellent ensembles, we're proud to announce that Patchwork are the inaugural winners of the B:Music Prize, presented in partnership with the Royal Birmingham Conservatoire. My thanks to Yugen Saxophone Quartet and Broken Bones for their time and dedication to the prize too. We are delighted to bring our first season of Music on Mondays with the Conservatoire to a close with Patchwork's performance. They really took the concept theme of 'together' and made it their own, and encapsulated the ambition that the evolution of the B:Music Prize (formerly THSH Chamber Prize) set out to achieve. I look forward to checking out their performance in June!

Chris Proctor, Head of Programme: B:Music
The partnership between B:Music and Royal Birmingham Conservatoire continues to grow alongside our shared aims and philosophy for promoting new talent across the city. The support that B:Music has given the RBC Outreach programme, SoundLab-BRUM has ensured that young people and their families from diverse communities across our city have the opportunities to rehearse, perform and access such prestigious city centre venues. The new 'Music on Monday' programming and the B:Music Prize provide aspiring professional RBC Musicians with invaluable professional experiences they need in which to continue on their musical journeys, with real life public performances to diverse audiences. All of these elements of our partnership make Birmingham a lively and fantastic place for young musicians to excel and we are looking forward to future years of development together

Richard Shrewsbury, Head of Learning and Participation: Royal Birmingham Conservatoire