A 40th anniversary celebration
/ News
18 Oct 2023
News Story
Thomas Trotter receives commemorative Klais organ pipe as he marks 40 years as Birmingham City Organist
Thomas Trotter was appointed Birmingham City Organist in 1983 and has been Artistic Advisor and Resident Organist at Birmingham's Symphony Hall since 2001. In 2002 he won the Royal Philharmonic Society Instrumental award in recognition of his outstanding contribution to classical music. He holds honorary Doctorates at Birmingham City University and Birmingham University and in 201 2 he was named Performer of the Year by the New York Chapter of the American Guild of Organists. He is a Medallist of the Royal College of Organists, and in November 2020 was awarded The Queen's Medal for Music for his achievements in organ-playing.
2023 marks 40 years for Thomas as Birmingham City Organist, so in recognition of his remarkable career, Klais & B:Music gifted Thomas with a commemorative organ pipe, on which was engraved: 'Presented by B:Music to Thomas Trotter To commemorate the 40th Anniversary as Birmingham City Organist. 6th October 2023 Symphony Hall, Birmingham'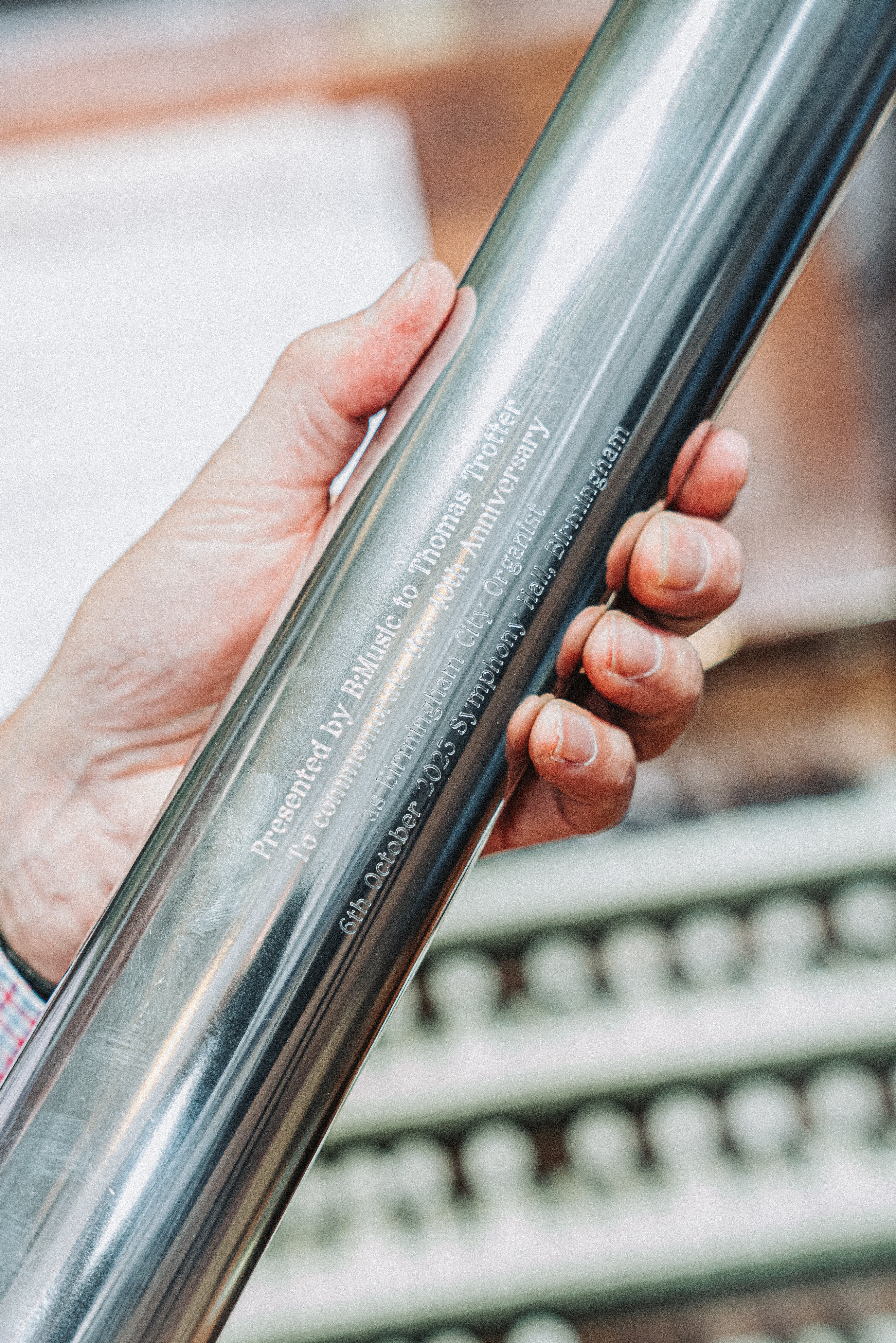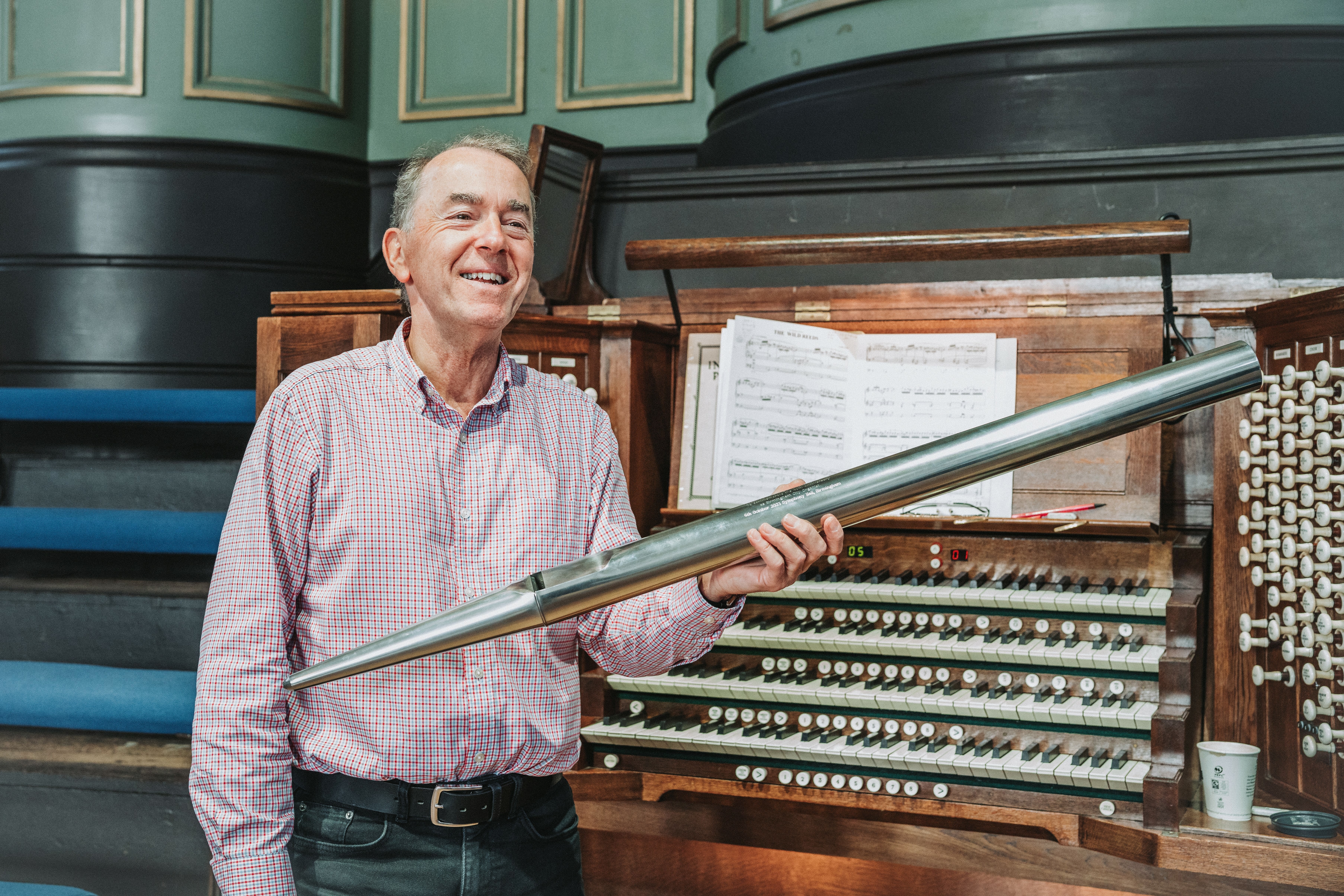 For the 40 year anniversary concert at the beginning of October, Organist Cheryl Frances-Hoad was commissioned to write a piece for Thomas, which debuted on the night at Symphony Hall.
Cheryl writes: "It was utterly thrilling to be able to write for Thomas Trotter and the Symphony Hall Organ, and I felt very honoured to be asked to write a piece for such a special occasion."
"The main melodic motive (heard at the beginning) is based on the notes of Thomas's name, and each section is inspired by an aspect of Birmingham's history over the last 40 years."
The piece was named 'Celebration Fantasia: Rhapsody on the name of Thomas Trotter'
Thomas continues to perform the lunchtime organ recitals in Town Hall. His fortnightly lunchtime concerts last around an hour and showcase the organ's sublime delicacy and awesome power – as well as his own technical wizardry – in some of the most inventive programmes you're ever likely to hear.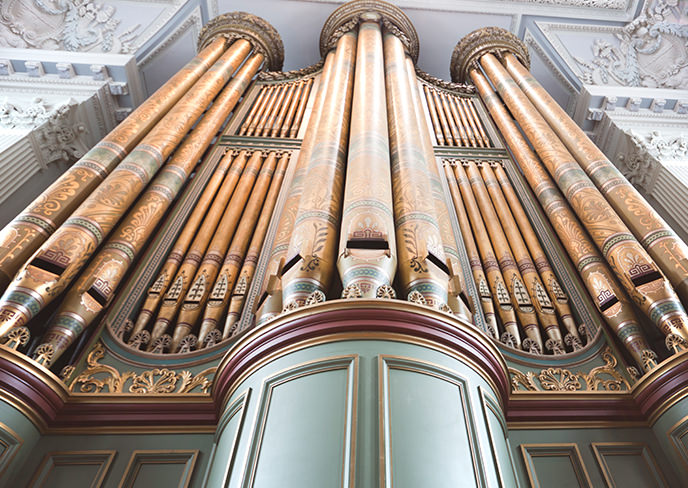 Lunchtime Organ Concerts
Find out more