Jazzlines Ensembles
Are you aged between 11 and 19 years old?
Are you from Birmingham or the surrounding areas?
Do you want the opportunity to develop your ensemble playing skills and learn more about jazz and improvisation?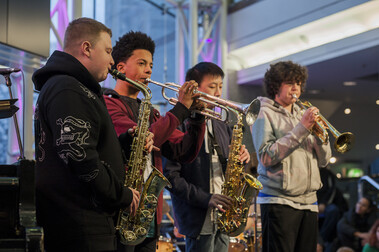 Whether you're a beginner or an advanced musician, join these regular workshops and masterclass sessions to learn new tunes by ear, develop your ensemble playing and improvisation skills as well as gain an understanding of jazz harmony.
Led by experienced jazz musicians and educators including Sara Colman and Percy Pursglove alongside a team of support musicians made up of students and recent graduates from Birmingham Conservatoire's jazz degree course, these fortnightly workshop sessions are FREE to attend and take place on Saturdays between 3:30pm – 5:30pm at Symphony Hall, a B:Music venue.
The Jazzlines Ensemble have performed at the OxJamBrum Takeover Festival, as part of our popular Jazzlines Free Gigs programme in the foyer of Symphony Hall, at mac Birmingham, Music For Youth Festival, and on the Jazzlines stage at Mostly Jazz, Funk & Soul Festival.

Watch the Jazzlines Ensemble's lockdown recording, arranged by Andy Bunting
Watch an online workshop filmed during the pandemic