Symphony Hall
The Overtones UK Tour 2021
24 May 2022
£42.50, £36.50, £30.50* inc. per ticket commission inc. per ticket commission
See ticket info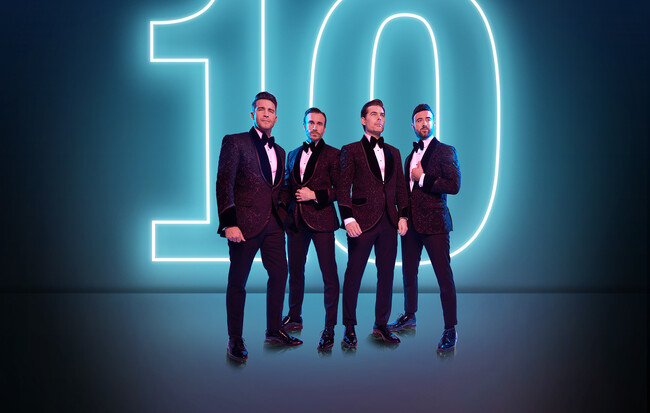 About The Overtones UK Tour 2021
Customer notice:
This event has been rescheduled from 22 November 2021. Our Box Office will be in contact with everyone who has purchased tickets. All tickets purchased for the original date remain valid.
Multi-platinum selling vocal harmony group, The Overtones are delighted to announce their 10th Anniversary Tour.
With 5 top 10 albums and 10 sold out UK Tours, The Overtones will embark on their 11th UK Tour to celebrate their 10 year anniversary performing as a group.
For the last decade, The Overtones have been a household name after appearing on dozens of television shows across the UK and Europe including Dancing On Ice, BBC Breakfast and This Morning to name just a few. After headlining at world renowned venues like The London Palladium and the Royal Albert Hall. The Overtones have built a name for themselves as one of the UK's most prolific live acts. From performing at the Queen's Diamond Jubilee at Buckingham Palace to singing at the Brandenburg Gate in Berlin in front of one million people. The Overtones have entertained at some of the biggest events on the planet.
Booking Info
£42.50*, £36.50*, £30.50*
VIP Tickets: £99 (available exclusively with Ticketex)


Ticket commission
*Some events may carry a £3 - £4 ticket commission; charged per ticket. This is charged when you book through B:Music's Box Office – online, by phone or in person. Any advertised prices will include any per-ticket fee that may apply.

Wheelchair Users and Disabled Patrons
If you require a wheelchair position (subject to availability) please call the Box Office on 0121 289 6343.

A range of tickets and services are available under our Access Scheme. To find out more, or to join the Access Scheme, email boxoffice@bmusic.co.uk or call us on 0121 289 6343.
Tickets are for personal use only. Purchasing tickets as, or on behalf of, a business or trader engaged in the resale of tickets is strictly prohibited. Tickets cannot be resold for commercial gain. We may cancel tickets and refuse entry if we have reason to believe this condition has not been respected. Customer accounts may also be suspended.
Getting here
Symphony Hall
Broad Street
Birmingham
B1 2EA